Hey there, 
I'll be returning once again to join the festivities at the annual SNYRA (Southern New York Racing Association) Reunion on Sunday afternoon.  Many of the cars and drivers that raced at Danbury's legendary Racearena stock car track will be there. 
I'll be providing music and featuring my Danbury Fair and Drivin' at the Racearena tunes as well as all of your other favorites. 
The weather looks great for this outdoor event! 
Here's the details 
Dave King at SNYRA Racearena Reunion 
Sunday, October 13th 
11:00am - 4:00pm 
Anthony's Lake Club/Amerigo Vespucci Lodge 
10 Christopher Columbus Avenue, Danbury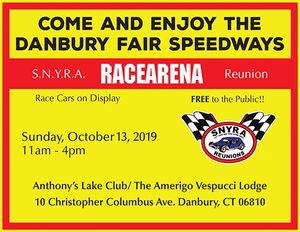 In addition to the reunion, I will be performing at Rosy Tomorrows on Sunday night.  If you can't make it to the reunion you can stop by Rosy's for some food and drink and musical merriment.  It's always a good time!  I'll be performing from 6pm to 9pm... 
Dave King at Rosy Tomorrows 
Sunday, October 13th 
6:00pm - 9:00pm 
15 Old Mill Plain Road, Danbury 
203-743-5845  
One way or another, I hope to see you on Sunday! 
Peace, 
Dave